global $base_url; global $language; // print link $link = $node->links['print_html']['title']; $url = $base_url . '/' . $language->language . '/' . $node->links['print_html']['href']; $att = $node->links['print_html']['attributes']; $print_link = l($link, $url, array('external'=>TRUE, 'attributes'=>$att, 'html'=>TRUE)); // email link $link = $node->links['print_mail']['title']; $url = $base_url . '/' . $language->language . '/' . $node->links['print_mail']['href']; $att = $node->links['print_mail']['attributes']; $email_link = l($link, $url, array('external'=>TRUE, 'attributes'=>$att, 'html'=>TRUE)); // language link -- currently only works for EN & RU $lang_name = ($language->language == 'en') ? 'ru' : 'en'; $trans = 'node_translation_' . $lang_name; $link = $node->links[$trans]['title']; // resize image $img = substr($link, 0, strpos($link, 'width')); // . 'width="16" height="12" />'; $url = $base_url . '/' . $lang_name. '/' . $node->links[$trans]['href']; $att = $node->links[$trans]['attributes']; $language_link = l($img, $url, array('external'=>TRUE, 'attributes'=>$att, 'html'=>TRUE)); // new comment link $link = $node->links['comment_add']['title']; $url = $base_url . '/' . $language->language . '/' . $node->links['comment_add']['href']; $fragment = $node->links['comment_add']['fragment']; $att = $node->links['comment_add']['attributes']; $comment_link = l($link, $url, array('fragment'=>$fragment, 'external'=>TRUE, 'attributes'=>$att)); // author & creation date $author = strtoupper($node->name); $date = date('M jS, Y', $node->created); $byline = 'By ' . $author . ' on ' . $date; ?>
SWAN members marked the International Day to End Violence Against Sex Workers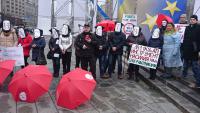 Tais Plus (Kyrgyzstan) together with Shakh-Ayim network have organized the event, attended by about 70 people, with the support of the project "Filling the Gaps", SWAN, Soros-Foundation Kyrgyzstan and Mama Cash. "Today we are facing injustice, but this attitude and readiness for change will break the situation. Do not be silent - do not be afraid to speak out! Together we are stronger - we will overcome violence!"- say the representative of Tais Plus.
In Skopje, Macedonia, STAR-STAR have organized the Red Umbrella March for the tenth time. Sex workers, human rights activists and supporters with red umbrellas in their hands marched in downtown Skopje against violence and discrimination seeking protection from institutions. The march have got a lot of attention from the media.
On December 16, STAR-STAR in collaboration with the Coalition "Sexual and Health Rights of Marginalized Communities" have organized art performance "Skopje Red Light District" (video here). "Skopje Red Light District" is an art installation aimed at reflecting the charm of the Red Light streets in Amsterdam. The Red Light street is the symbol of a free and tolerant attitude towards sex workers. The umbrella installation aroused a lot of interest in the passersby, and the event itself was media-friendly.
Silvana Naumova from HOPS was interviewed by the Macedonian TV channel TV NOVA, where she was talking about HOPS drop in center for sex workers and also about violence against sex workers.
On the eve of 17th of December Silver Rose (Russia) appealed to the President of Russia, the government and the Commissioner for Human Rights with the request to repeal the article 6.11 of the Code of Administrative Offences, which is punishing sex workers. Silver Rose have also launched the campaign "Repeal the article 6.11- stop the violence". Several videos with the real stories from real sex workers were released (video 1, 2, 3, 4).
The sex workers from Ekaterinburg have raised funds for the local animal shelter. On 17th of December in St Petersburg the performance "Learned helplessness" took place.
In Moscow, on 15, 16 and 17th of December, the II Conference of HIV Service Organizations and LGBT Communities 2017 was held, and Igor Pchelin from Shagi Foundation delivered a shocking report on the specifics of HIV prevention among MSM and transgender sex workers.
On 17th of December in Novi Sad (Serbia) Prevent have launched the new project called "Community-based services for sex workers". The aim of the project is to develop social services in Novi Sad that will support inclusion, better social and health support for sex workers.
Odyseus from Slovakia have created the infographics explaining the myths and the truth about sex work.
On 14th of December, in Kiev, League Legalife have organised the sex workers' march against violence against sex workers.
In Kiev, on December 15-17, 2017, the self-organization of transgender people HPLGBT organized and conducted a training to raise awareness about advocacy and protection of rights.