By yigit on 20 May 2019 - 13:25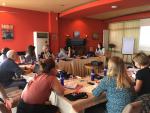 Between 7-9th May, activists from Tais Plus from Kyrgyzstan, Legalife from Ukraine, AMELIA from Kazakhstan and Women for Freedom from Georgia came together at the regional convening SWAN organised in Tbilisi, Georgia to discuss transitioning from Global Fund (GF) to state funding and exchange of experiences between community led organisations implementing the NSWP Global Fund Capacity Building Program. Eurasian Harm Reduction Association (EHRA) provided additional technical assistance within the framework of the Communications Platform.

By yigit on 2 May 2019 - 12:54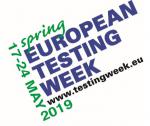 Spring European Testing Week is 17-24 May 2019

By yigit on 24 Apr 2019 - 11:18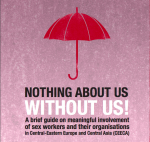 The global sex worker movement has been advocating for the meaningful involvement of sex workers in the design, development, implementation, management, monitoring, and evaluation in programming, research, legislation, and policy-making for decades. In 2017, the Global Network of Sex Work Projects (NSWP) held an expert meeting with sex workers from all over the world to determine criteria for the meaningful involvement of sex workers, and to develop an evaluation framework for the Sex Worker Implementation Tool (SWIT).

By yigit on 24 Dec 2018 - 13:13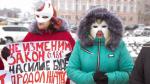 17th of December is marked by sex workers internationally as the International day to End Violence against Sex Workers to raise awareness of the violence against sex workers worldwide, demand justice for the human rights violations sex workers face and to remember the lives of loved ones.

By yigit on 13 Dec 2018 - 13:55

By yigit on 6 Dec 2018 - 14:04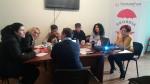 Between 18-19th of November, SWAN provided technical assistance to Woman for Freedom in Georgia, for their 2-day advocacy planning meeting with their members.