Country info
Country information: Bosnia and Herzegovina (Bosna i Hercegovina, Боснa и Херцеговина, abbreviated BiH) is a country in Southeastern Europe located on the Balkan Peninsula, bordered by Croatia, Serbia, Montenegro and the Adriatic Sea.
Human Rights 2015: An overview by Amnesty International
Number of sex workers: 4000 (the rough estimation of number of active female sex workers according to APMG - (AIDS Projects Management Group) report on estimation of  size population of MSM, PWID and SW in Bosnia and Herzegovina from 2013. Association PROI was involved in the estimation process.
HIV/AIDS rates: From 1986 till the end of 2014 the number of registered cases of HIV infection was 266. As of 2014, there are 126 persons living with HIV infection in BiH.
HIV prevalence among sex workers: 0% as of 2011.
Legal situation around sex work: Sex work is illegal, together with solicitation it is punishable under the law on misdemeanor: breach of public peace and order.
The Penalty Code punishes the following crimes that aim at:
organization of prostitution by third parties / pimping;
human trade with intent of coercion into prostitution: it is a state-level crime that is punished with imprisonment for up to ten years, or long-term imprisonment.
Services in country: Most of the activities are supported by Global Fund to fight HIV, tuberculosis and malaria and UNDP. Services are: drop-in centers for sex-workers and outreach work. Testing for HIV and other sexually transmitted diseases are free of charge in VCCT centers (22 centers in BiH).
Sex workers' movement: There is an initiative group Meretrix established by Association PROI.
Latest news
By maria on May 6th, 2015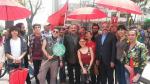 Sex workers, sex workers' rights activists, groups and allies celebrated May 1 with various actions. SWAN members also joined the celebration, you can read more about actions that took place in Turkey, BiH, Bulgaria and Macedonia on May 1, 2015 below.