ALBANIA- AKSION PLUS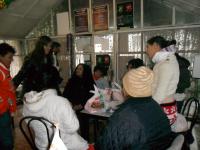 The session was attended by nearly 30 other human rights activists. It was a very constructive event in terms of the open discussion and joint recommendations for future action that were proposed. The interaction between stakeholders and concerned parties proved very fruitful.
Aksion Plus produced a leaflet to highlight December 17th. Some of these were displayed and disseminated at the national Debate, while the rest were distributed outside in the streets from our SW volunteers. Due to Aksion's sensitization efforts, an article was published in the Shekulli newspaper about the day and the red umbrella logo was shown on Wake Up (the top TV morning program).
Aksion Plus also organized informal training sessions and the provision of basic information to sex workers at the A+ centre. Sex workers in situations of poverty were provided with small packages containing food, condoms and other hygienic items.