Five Country Teams Attended SWIT Training in Budapest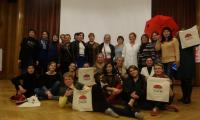 SWAN members Silver Rose (Russia) and Legalife (Ukraine) reported that their governments ignore all international treaties and guidelines. In addition, migrants' rights in Russia are violated and censorship makes advocacy difficult.
Participants from the Kazakh organisation Amelia were concerned about the police persecution of sex workers living with HIV under laws that prohibit the transmission of HIV. Kazakh sex workers are registered by police using their names and photos, which is a human rights violation.
Women for Freedom (Georgia) discussed the risks sex workers face when reporting abuses to the police like revenge, violence, and the disclosure of their occupation to their families. In addition, sex workers can only receive HIV testing if they show health administrators their passport.
Tajik police are threatening sex workers to disclose their occupation to their families, and sex workers are often subjected to forced HIV testing.
The training curriculum was based on the Implementing Comprehensive HIV/STI Programmes with Sex Workers resource, also known as the SWIT. The SWIT was published in 2013 by the World Health Organization (WHO), United Nations Population Fund (UNFPA), Joint United Nations Programme on HIV/AIDS (UNAIDS), Global Network of Sex Work Projects (NSWP) and The World Bank. NSWP has also published an accessible Smart Guide to the SWIT in English, Russian, French, Spanish and Chinese.
"I am happy with the training, I enjoyed the process of exchanging experiences with other regions, discussing existing problems and looking for solutions." Says one anonymous participant. "Since the SWIT is endorsed by UNAIDS and WHO, I can use it in dialogue with decision-makers and other stakeholders."
In the closing speech Ruth Morgan Thomas, Global Coordinator of NSWP, pointed out that despite the repression sex workers face, the sex workers' rights movement is growing. She stated that sex worker-led organisations are the experts in meeting sex workers needs, can do things much more cost effectively than service providers and should use that knowledge to our advantage. Stasa Plecas, the Executive Director of SWAN, added that 'we started in 2006 with only 1 sex-worker-led organisation as SWAN member, and now we have ten.
NSWP published a case study on the development, implementation, and rollout of the SWIT in December 2015.