SWAN Members Commemorated International Day to End Violence Against Sex Workers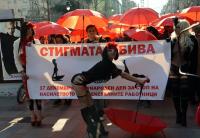 Macedonia
STAR-STAR organized Red Umbrella March in Skopje. Sex workers, strippers, hot line operators, escort girls and guys, users of their services, human rights activists and their supporters marched under the banner "Stigma kills". The march was dedicated to the global solidarity with sex workers, demanding better working conditions and a world without violence, and it aimed to attract attention to a big number of sex workers in Macedonia and stigma and discrimination they face.
On the 17th of December HOPS held a pres conference together with STAR-STAR at the beginning of the march.They also published a Call For Solidarity describing there the ongoing violence against sex workers in Macedonia and organised a celebration for the community in a bar in the old bazar area in Skopje. HOPS also announced the prize for the best article on the occasion of 17th of December.
Hungary
SZEXE held a press-conference and roundtable discussion in Budapest. During the press-conference a video on institutionalized violence against sex workers in Hungary made within the campaign "Switch off blue light!" against violence and discrimination against sex workers, a map of the places in Hungary where sex workers experience violence and the newest infographics were presented. They were also talking about recent murders of sex workers in Hungary. A representative of SWAN presented the findings of Failures of Justice publication on violence against sex workers and their access to justice in the CEECA region. The roundtable gathered representatives of various civil society groups who discussed violence targeting both sex workers and other groups, such as women, Roma, people who use drugs and homeless people.
KAZAKHSTAN
"Ameliya" organized a meeting of sex worker activists dedicated to International Day to End Violence against Sex Workers on December 17 in Taldykorgan.
ROMANIA
On December 17 sex workers from Bucharest sent a letter addressed to the Ministry of Health, and the Ministry of Justice, denouncing discrimination and violence in both health and justice systems, the criminalizing environment and an increased level of police abuse. The letters (available in English as well) also contain a set of specific demands. They were pinned down by sex workers during an ICRSE and CARUSEL training in Bucharest, on community mobilization. SWAN was also present there during this training with support, and of course has signed the letters, backing all sex workers' demands.
RUSSIA
Activists from Silver Rose presented a short video and invited people to their new Community Center in Saint-Petersburg. There were a lot of various things happening there: arts, striptease dances, experience exchange, red balloons flying into the dark St.-Petersburg sky, on air interview, a photo shoot with red umbrellas and wishes to each other.
Shagi Foundation from Moscow, organized a meeting with volunteers and activists of Red Umbrella project. The participants discussed sex workers' problems in the region, possibilities and the potential of the community development.
On December 19 "New Life" from Yekaterinburg, Russia, held its first Day to End Violence against Sex Workers of struggle against violence against sex-workers. On this day the representatives of the NGO met with sex workers in a sauna in order to tell them about the 17th of December, sex workers movement, to talk about police violence and how he resist it by knowing your rights. On the same day the organization also decided to launch a series of mini-workshops for sex workers.
SERBIA
On December 17 "Sloboda Prava" ("Equal Rights") held a meeting under red umbrellas in a central Belgrade hotspot in the park near the faculty of economics. This year's event was focused on violence against female sex workers. The participants prayed for the speedy recovery of their colleague who is in coma in a hospital. Also some participants shared memories of colleagues who are no longer with them.
SLOVAKIA
C.A. Odyseus from Bratislava, held an event "Christmas Breakfast Under the Red Umbrella" organized in honor of the "International Day to End Violence Against Sex Workers". Odyseus invited to the event mainly students from social work, psychology and medicine faculties, members of the Police Force, donors, representatives of the Ministries of Health and Labour, SWAN as the international project partner, foreign guest from Czech republic, an organization Bliss Without Risk, and other non-profit organizations who dedicate their work to the topic of violence against women and media. The main topic of this event/discussion is the search for common solutions in the prevention of violence against female sex workers. Photo exhibition of photographer Eszter Erdelyi, which brings life to female sex workers to the public, was also a part of the event. The Odyseus team also went on outreach and distributed hygiene kits and red umbrellas.
TURKEY
Red Umbrella Sexual Health and Human Rights Association Turkey organized a lot of various activities within the scope of the 17th December in order to bring the violence against sex workers and dynamics surrounding this violence to the agenda of the society:
December 14: A briefing and consultation round table meeting with provincial health directorates, Ministry of Health officials, and other stakeholders to discuss the sex work legislation and the situation of sexual and reproductive health of sex workers.
December 18: One-day training for trans women from various provinces of Turkey to inform them about the arbitrary practices of law enforcement officials against them, namely administrative fines, home sealings and other administrative practices.
December 18: A theatre performance "SEHER AND ALİ" performed in order to collect money for trans people and sex workers in prisons.
December 19: A Discussion on the Struggle against the Violence Targeting Sex Workers "NO "BAD" WOMEN JUST BAD LAWS!" There representatives from Transgender Europe and ICRSE discussed the violence targeting sex workers based on their working areas; sex workers, legal experts and representatives from various state institutions from Turkey discussed the violence against sex workers, access to justice and protection mechanisms in detail.
UKRAINE
All-Ukrainian Charitable Organization "Legalife-Ukraine" (Kirovograd) organized a flashmob in the center of Kirovograd where the participants were holding red umbrellas and then playing a scene on the police behaviour towards sex workers. On the 18th of December the leader of the organization Natalia Isaeva and its member Olena attended the public discussion in Kyiv "Sex work: to permit or to forbid?" dedicated to explaining in a popular way what myths exist around the topic of sex-work and, building on the existing social science evidence, to debunking these myths.