SWAN members celebrated the World AIDS Day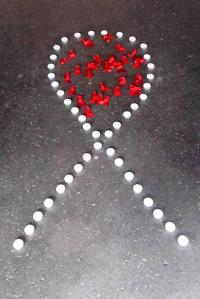 Hungary
SZEXE, the Association of Hungarian Sex Workers, took part at the Remembrance and Protest organized by the Civil Aids forum, where Agnes Földi spoke about the difficulties Hungarian sex workers are facing.
Macedonia
In Macedonia, HOPS took part in the protest organised by the platform for HIV (consisted of all NGo's that provide HIV prevention services) to express their discontent by the adoption of the abbreviated budget for the national HIV program, to give the support to people living with HIV , and to pay tribute to those who lost their lives from AIDS. As a background, the financial support that was provided by the Global Fund ends this year, and the government will not  provide enough money for the National HIV program for 2017.
Montenegro
For the occasion of 1 December, the World AIDS Day, the Union of high schools, Juventas (Montenegro) and Public Health Institute will organise educational forums for high school students in most high schools during the month of December. Free HIV and Hepatitis C testing was also organised at Juventus drop-in center, with the collaboration of the Institute of Public Health of Montenegro.  
Russia
On the World AIDS Day, a press-conference on "The role of NGOs in HIV response in Moscow" was held in Moscow, Russia. Igor Pchelin, the head of Shagi (Steps) Foundation, was one of the speakers. On 2nd of December, a "Day of Beautiness" was organised jointly by the professional makeup artists from M.A.C., the "Focus-Media" and the Shagi Foundation. A group of HIV positive women took part in a workshop where they learned tricks from professionals.
Serbia
The association Prevent from Serbia marked the World AIDS Day with a series of actions. The celebration started on 26 of November. The "Positive Concert 5", organised by Prevent,  took place in Novi Sad on November 26. On 1st of December, they held a public event at the shopping centre Sad Novi Bazaar from 10 am to 12 am, during which members of Prevent talked with visitors and shared educational materials and condoms. After that, there was a lecture about HIV for the students of the Secondary Technical School of Novi Sad.
Simultaneously in Subotica, Prevent, in collaboration with other organisations, did free HIV testing to 38 people in their mobile unit. The event was held at the town square, where visitors could also obtain condoms and educational material. Before this event, a voluntary HIV testing and counseling was organized in the Institute of the Execution of Criminal Sanctions in Subotica as in previous years.