International AIDS Conference to take place between 23rd-27th of July in Amsterdam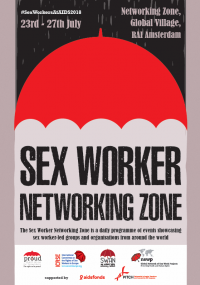 The International AIDS Conference 2018 is takeing place in Amsterdam, the Netherlands, between 23rd and 27th July 2018. 
SWAN will be present in Sex Workers Networking Zone and EECA Regional Communities Networking Zone within the framework of the campaign 'Chase the Virus, Not People'. During the conference we will be on social media under #SexWorkersatAIDS2018
The details of the events related to sex workers' rights and SWAN's work within the two networking zones can be found here.
Please visit http://www.nswp.org/page/iac-2018 for more information about the events at Sex Worker Networking Zone.
Please visit  http://chasevirus.org/events-program/ for more information about the events at EECA Networking Zone.
Click on the picture to read and dowload the programme of events in Sex Worker Networking Zone.
Impact of Punitive Laws, Policies and Practices on Sex Workers' Vulnerability to HIV and Respect of their Human Rights
Monday 23rd July, 14:45 - 16:45, Hall 11B
Non-commercial satellite
Join six sex worker speakers to discuss how current legal frameworks regarding sex work in their countries fail to respect, protect and fulfil the human rights of sex workers, thus increasing their vulnerability to HIV.
Impact of punitive laws, policies and practices on sex workers' vulnerability to HIV
Wednesday 25 July, 18:30 - 20:00, Global Village Session Room 1
Workshop
Join four sex worker speakers to discuss how they have successfully challenged the legal framework regarding sex work in their countries. This workshop will feature presentations and group discussion on strategies used to improve the respect, protection and fulfilment of the human rights of sex workers