SWAN members participate at a red-umbrella event in Vienna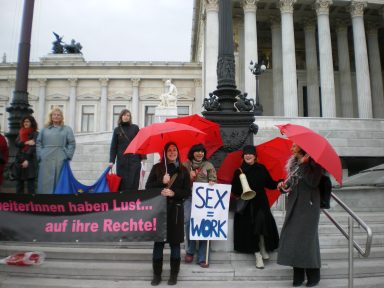 In the beginning of March this year the 1st General Meeting of TAMPEP 8 was held in Vienna, Austria. An advocacy action was organized on the final day of the meeting, in front of the Austrian Parliament.

Says Angelina Georgieva from HESED, SWAN member from Bulgaria: "During the one hour event everybody opened a red umbrella. The message "Rights not Illegalization" was written in almost all the languages of the participants fom 25 countries. Everyone who wanted could say something on the megaphone in his language. It was really exciting."

Besides Angelina, participating were another three SWAN groups: Odyseus from Slovakia, TADA from Poland, and ARAS from Romania.

Photos from the event are available on ICRSE website.
A report on the event by an Austrian anti-racism website is available here (in German)